Iceland Photography: Winter Dreams
Iceland Aerial Photography, Aurora Photography and Landscape Photography
---
My recent trip to Iceland brought some amazing experiences where I was able to create some of my favorite images. It's a place that I have wanted to visit now for years. I had seen tons of stunning Iceland Photography through friends and colleagues, so it was awesome to get out there and see the locations for myself. My main focus was to capture Northern Lights photography over some of the unique Icelandic Landscapes. But aside from the Aurora, I also wanted to shoot the diversity of the textures, patterns and colors within the landscape. Here is a collection of Iceland landscape photography from my journey.
If you would like a print from this collection please contact me here shainblumphoto@gmail.com or visit my print store.
---
---
The first photo here is of the Aurora captured over Skógafoss waterfall. I did a vertical panorama to show as much of the landscape as I could whilst also showcasing the Northern Lights. The second photo is of the Northern Lights captured over one of the most famous mountains in Iceland, Kirkjufell. I wanted to do something different with my Aurora photography, so I found pieces of ice in the foreground that complemented and mimicked the shape of the mountain peak itself.
---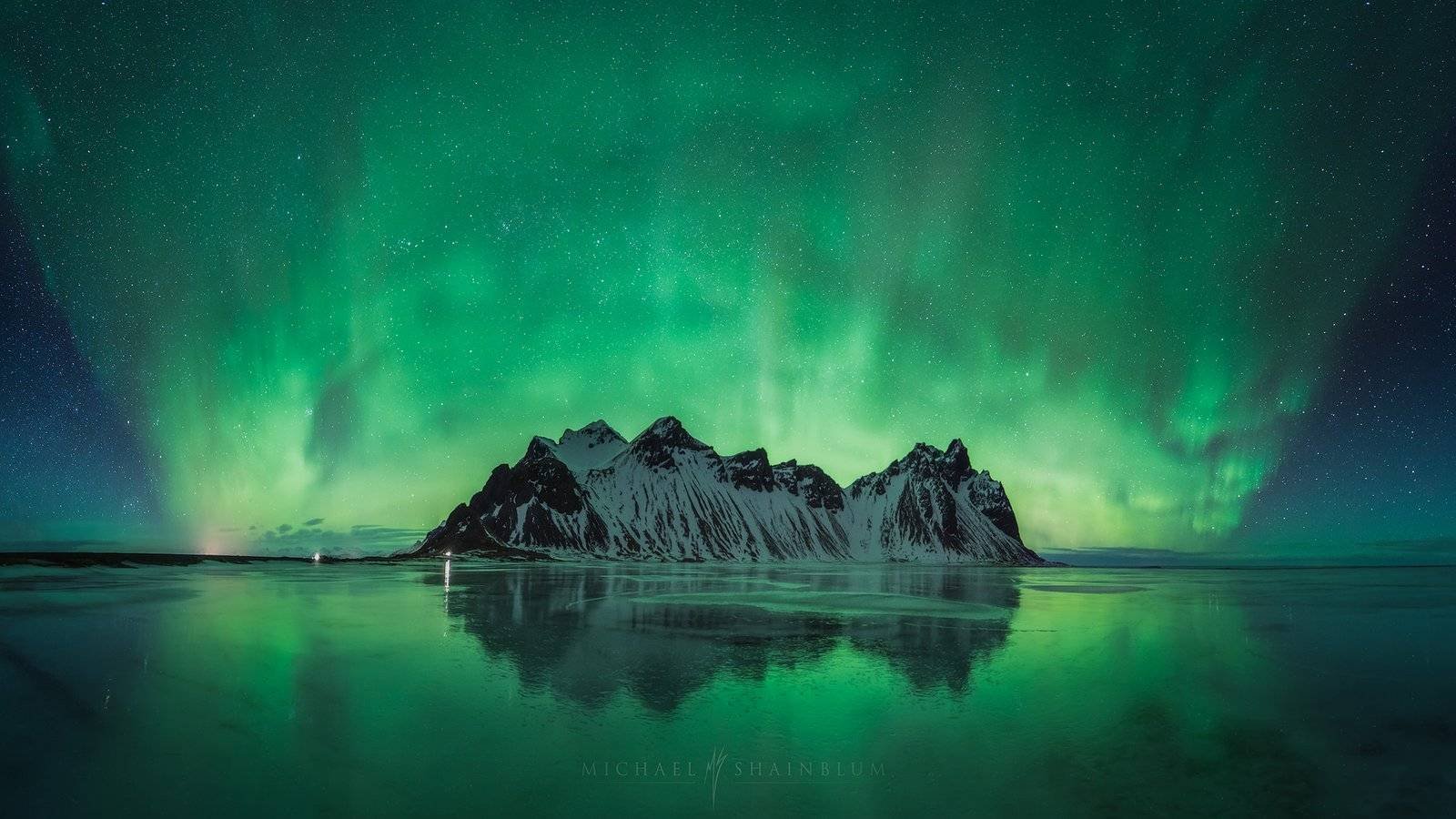 ---
The thing about Northern Lights photography is that it can be quite tricky to predict where the Aurora is going to show. On this night, we thought we had gotten bad conditions as there was a decent amount of cloud coverage and no sign of the Aurora showing up anytime soon. To our surprise, it returned in the middle of the night, filling the entire sky above Mount Vestrahorn. In the end, patience and persistence is what Aurora photography is all about.
---
---
This first photo was again taken over Mount Vestrahorn. During this night, Aurora photography was difficult as the activity of the Northern Lights was a lot more subtle than in the previous photo. I still found it incredibly beautiful with the different textures in the foreground and seeing more of the stars illuminating the sky.
---
---
This first Iceland aerial photo was taken over Seljalandsfoss in Iceland. This was actually one of the first locations that we visited on our trip. This next photo was taken directly over Skógafoss, highlighting the power of a waterfall tumbling down from above.
---
---
There are interesting patterns, colors and textures to be found in the glaciers of Iceland. I love the strong waves of the lines complemented by the deep black scars where the glacial ice has been grazed and sculpted over hundreds of years.
---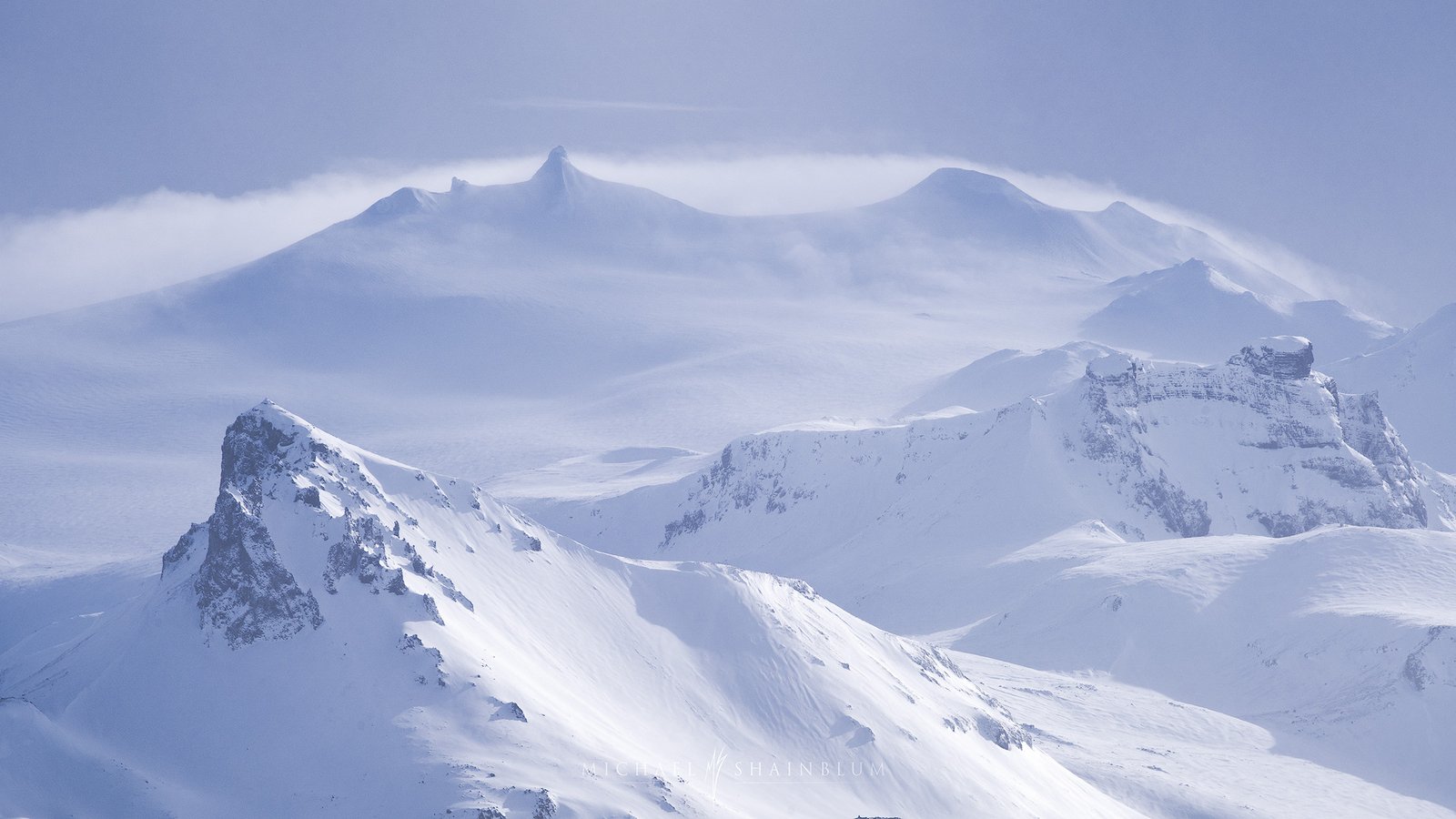 ---
The delicate dusting of snow made for a wonderful winter landscape, unveiling some of the lesser photographed hills and peaks of Iceland.
---
---
Here are two of my favorite photos from my Iceland landscape photography collection. The first is an aerial scene showing a desolate road going past a magnificent mountain peak. The second is actually a self-portrait telephoto image where I stood in front of Skógafoss. I wanted to bring in a sense of scale and include a human element into an otherwise abstract photograph.
---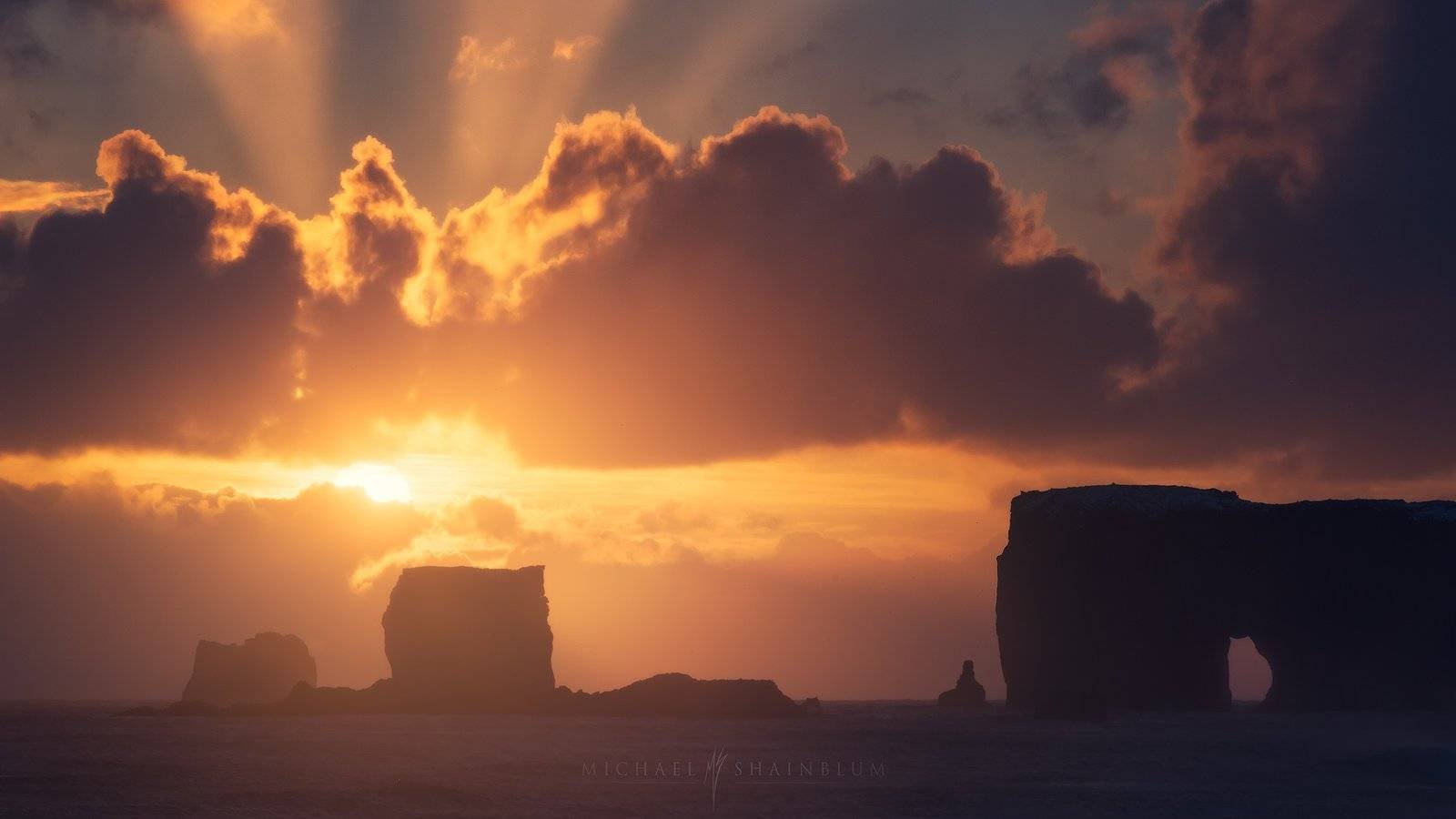 ---
This photo was taken at Reynisfjara beach during a beautiful sunset. We actually didn't get to see very many colorful sunsets in Iceland. Most of the time that we were there, we were either dealing with heavy rain or full cloud cover. On a few occasions, it was really nice to have a glimpse of the sunlight.
---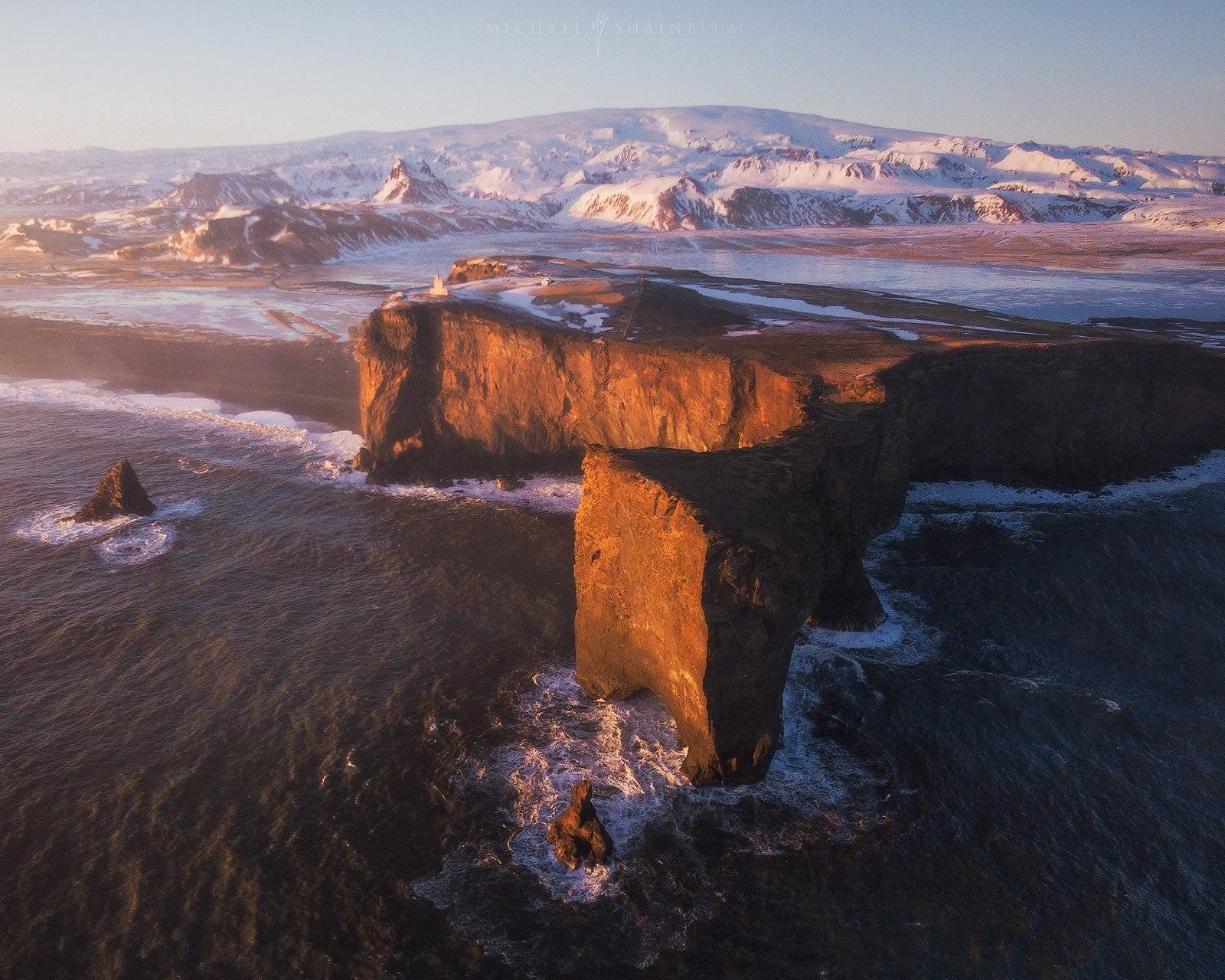 ---
Iceland is home to some of the most dramatic sea-cliffs that I have ever seen. It was nice to do some aerial photography and be able to see these gigantic formations from a different perspective.
---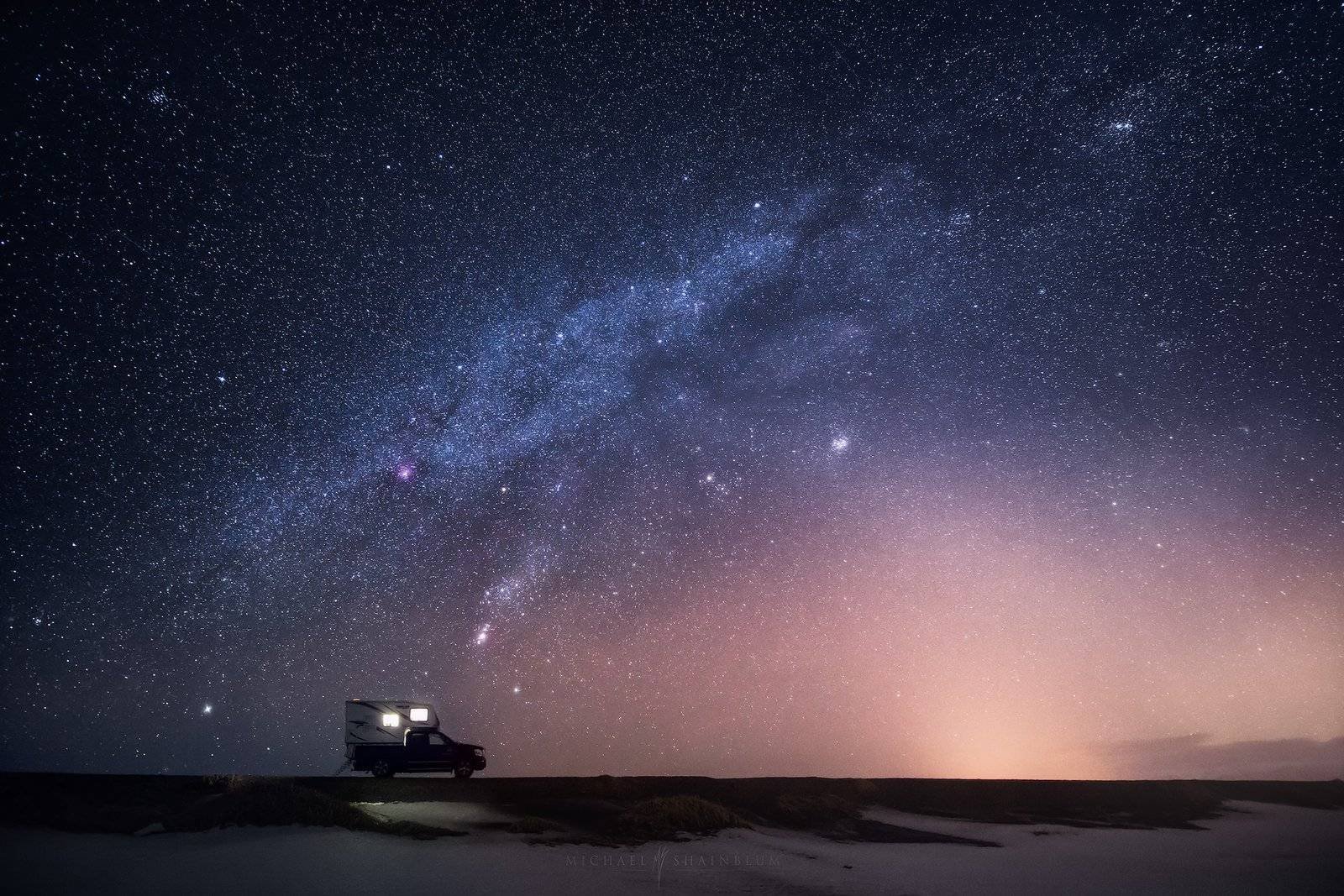 ---
Our Iceland Northern Lights photography and aerial adventure was amazing. It was great to see the beautiful landscapes that the country had to offer. I can easily say that some of my favorite shooting experiences were made on this trip. We were not only challenged by tough shooting situations and rough weather, but also rewarded with some amazing views and some awesome experiences. To see more landscape photography, check out my other galleries here: http://shainblumphoto.com/portfolio/projectsseries/