How To Photograph Waterfalls
My Top 5 Waterfall Photography Techniques
Waterfall photography is by far one of my favorite genres in landscape photography. Not only are they a source of pure enjoyment to capture, but they also open the gateway to a wealth of diverse techniques waiting to be explored.
In the following article, I share how to photograph waterfalls & streams with my top 5 favorite techniques.
https://www.youtube.com/watch?v=fFXx9rD-JxM
Waterfall Photography Tip
1: Immersive Ultra Wide Waterflow
The first of my waterfall photography tips is to utilize an ultra-wide perspective. Choosing a lens like the 16-35mm or 14-24mm will bring the scene to life. Also make sure you have a nice, sturdy tripod with you. Embrace the waterflow by standing within the gentle stream at the base of the falls, creating an unparalleled sense of immersion. However, it's important to approach this technique with caution and prioritize safety.
Personally, I walk through the water cautiously, ensuring it's not too deep or forceful. For those new to this experience, take your time to acclimate to the surroundings and gauge your comfort level. If standing in the stream feels uneasy, nature often provides logs or rocks that offer stable platforms for observation.
Using your wide-angle lens, angle the camera downward to include two-thirds or three-fourths of the ground, creating a captivating pathway leading to the falls. Observe the unique shapes within the water and how its flow contributes to the overall balance of the scene. When finding a nice position, moving through the stream can often help, or even just experimenting with the height of your tripod.
If the flow of water doesn't naturally guide the viewer's eye toward the falls, experiment with your positioning until you achieve a satisfying composition. This adjustment might require some patience, but the resulting image is well worth the effort.
Tip 2: Telephoto Minimalism
Telephoto photography introduces a distinct departure from the previous technique. Instead of immersing yourself in the lively waterflow, opt for a serene experience on the shore. Choose a dry spot where you can comfortably enjoy the waterfall spectacle. With the telephoto lens, you'll zoom in on specific details of the falls, rather than encompassing the entire scene.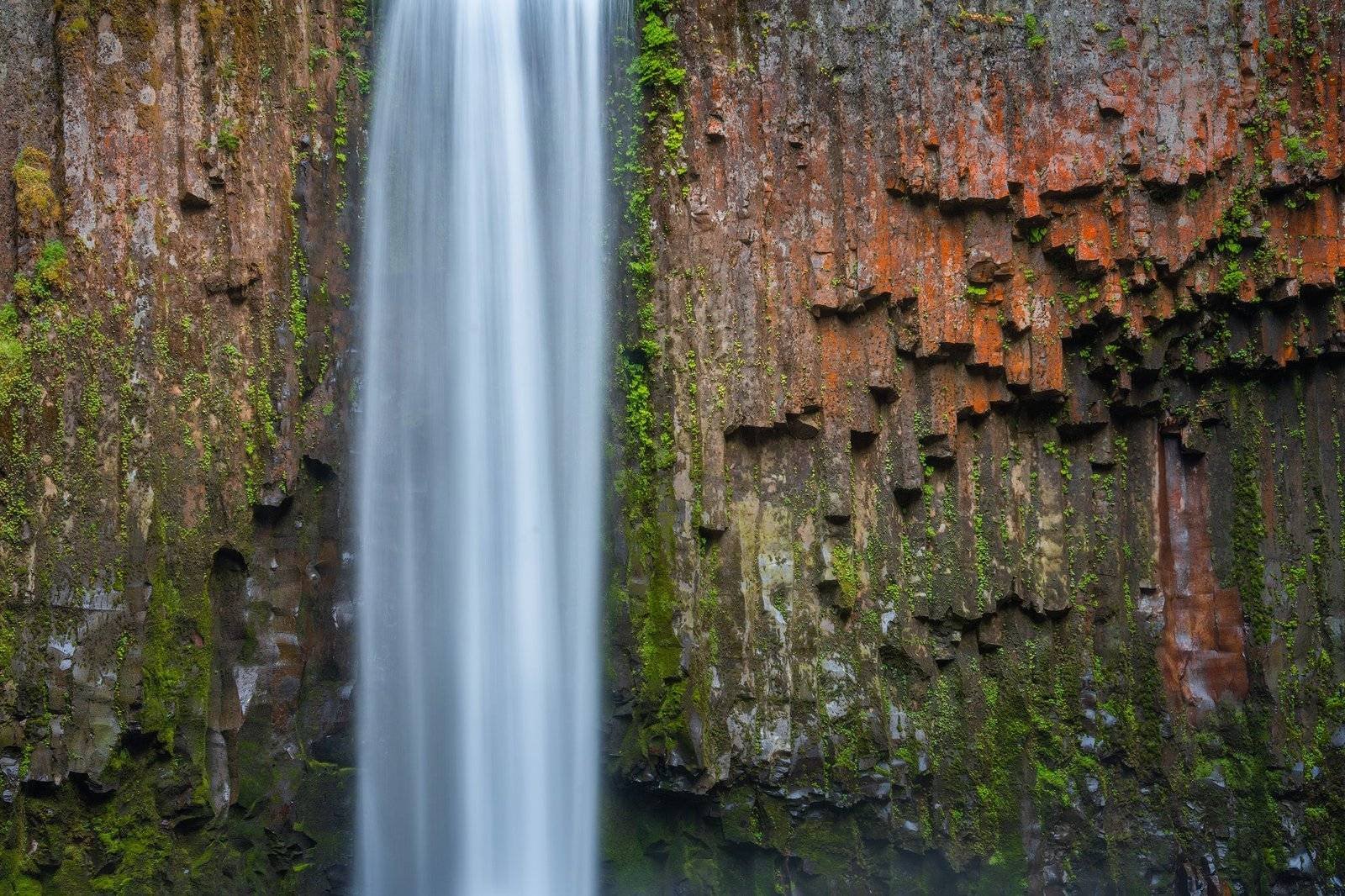 Explore the art of capturing smaller aspects – notice intriguing color contrasts, repetition of shapes or textures, and revel in the simplicity that this lens enables you to create. When it comes to shutter speed, tailor it to the mood you wish to evoke in your scene. Employ a swift shutter speed to freeze water droplets in mid-air, showcasing their power and texture. On the other hand, a longer exposure will simplify the motion, offering a surreal and blissful look.
Tip
3: Wide Angle Framing Elements
When working with your wide-angle lens, take a moment to explore innovative ways to frame the waterfall within your composition. Look for captivating rock formations that can be positioned on either side of the cascade. Alternatively, consider using elements like trees or ferns to frame the falls.
If focus stacking isn't an option, choose a smaller aperture like F16. This will ensure more of the scene is in sharp focus, capturing the details. Keep in mind that using a narrower aperture may require increasing your ISO to maintain proper exposure. This technique enhances the clarity of your image. Although in some cases having areas slightly soft or out of focus can be a nice look. So it's worth experimenting with wide and narrow apertures if you have the time.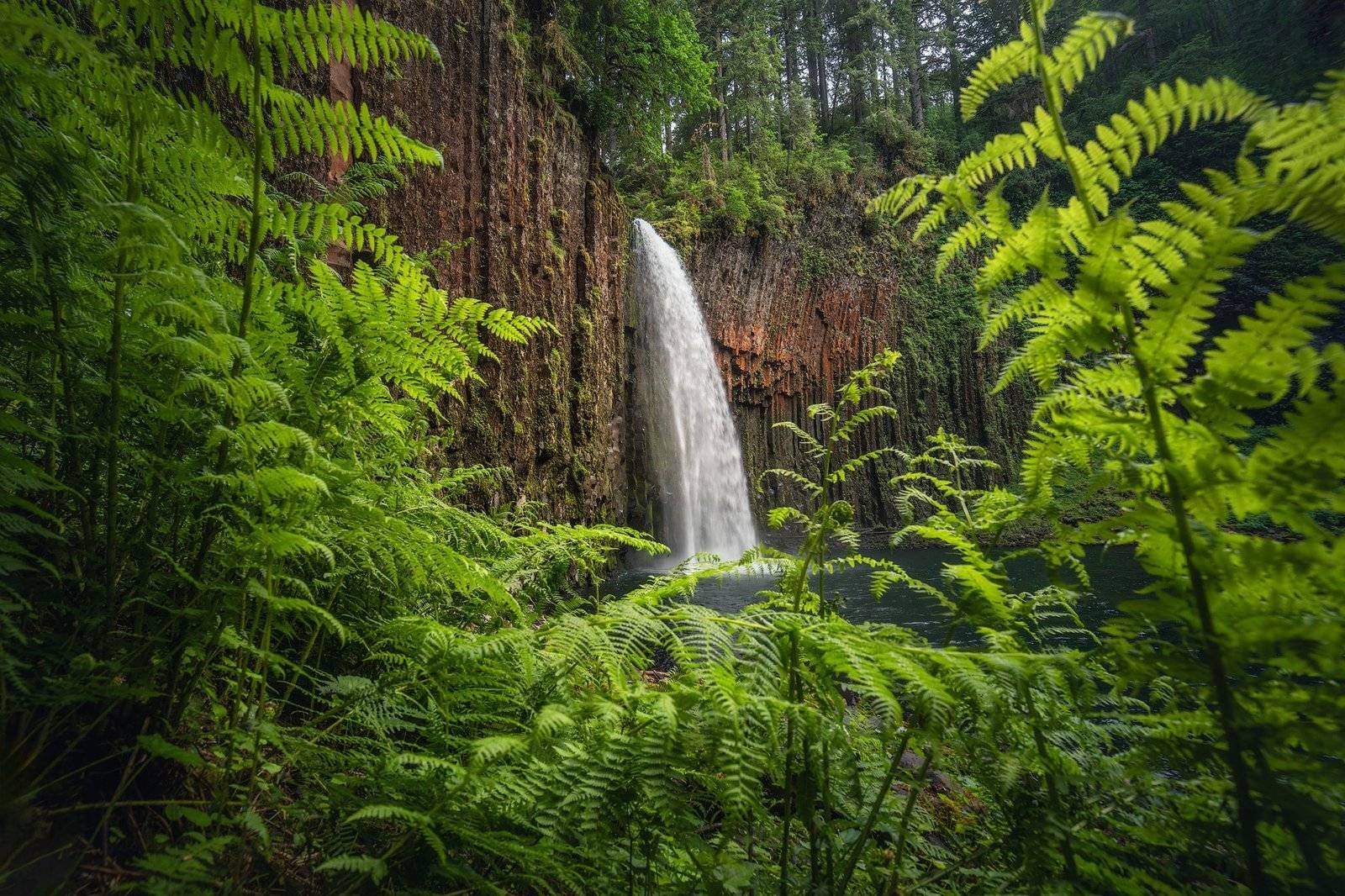 Tip 4: Reflections
One of the cool things about waterfalls is their potential for reflections. Keep an eye out for spots where the water is calm and shallow near the falls. While not always easy to find, it's worth taking a look around for these opportunities.
Try getting your camera closer to the water's surface using a wide-angle lens. This gives you a unique perspective of the waterfall mixed in with some added textures. Alternatively, you can also just shoot the reflection itself to get some really interesting abstract photographs.
Waterfall/Streams Photography Tip 5
: Spontaneous Potential
As photographers, we often become fixated on our shoot's primary goal. Yet, it's equally vital to remain spontaneous and receptive to the opportunities that unfold. Waterfalls are nestled within breathtaking landscapes, offering a wealth of possibilities beyond the falls themselves. In my own experiences, there were times where I ventured out with the intention to capture the waterfall, only to find myself capturing captivating shots of various elements around the falls instead.
From the textures adorning rock walls to reflections painting forests onto tranquil ponds, even the intricate beauty of ferns in abstract compositions – it's all waiting to be captured. Remember, every nook and cranny holds potential; you simply need to invest a bit of extra time to explore and reveal it. The charm of waterfall photography lies in its flexibility. Unlike the time constraints of sunset seascapes, waterfalls exhibit their beauty throughout the day, adapting to shifting lighting conditions. Immerse yourself in these surroundings for a few hours, allowing your creativity to unfold.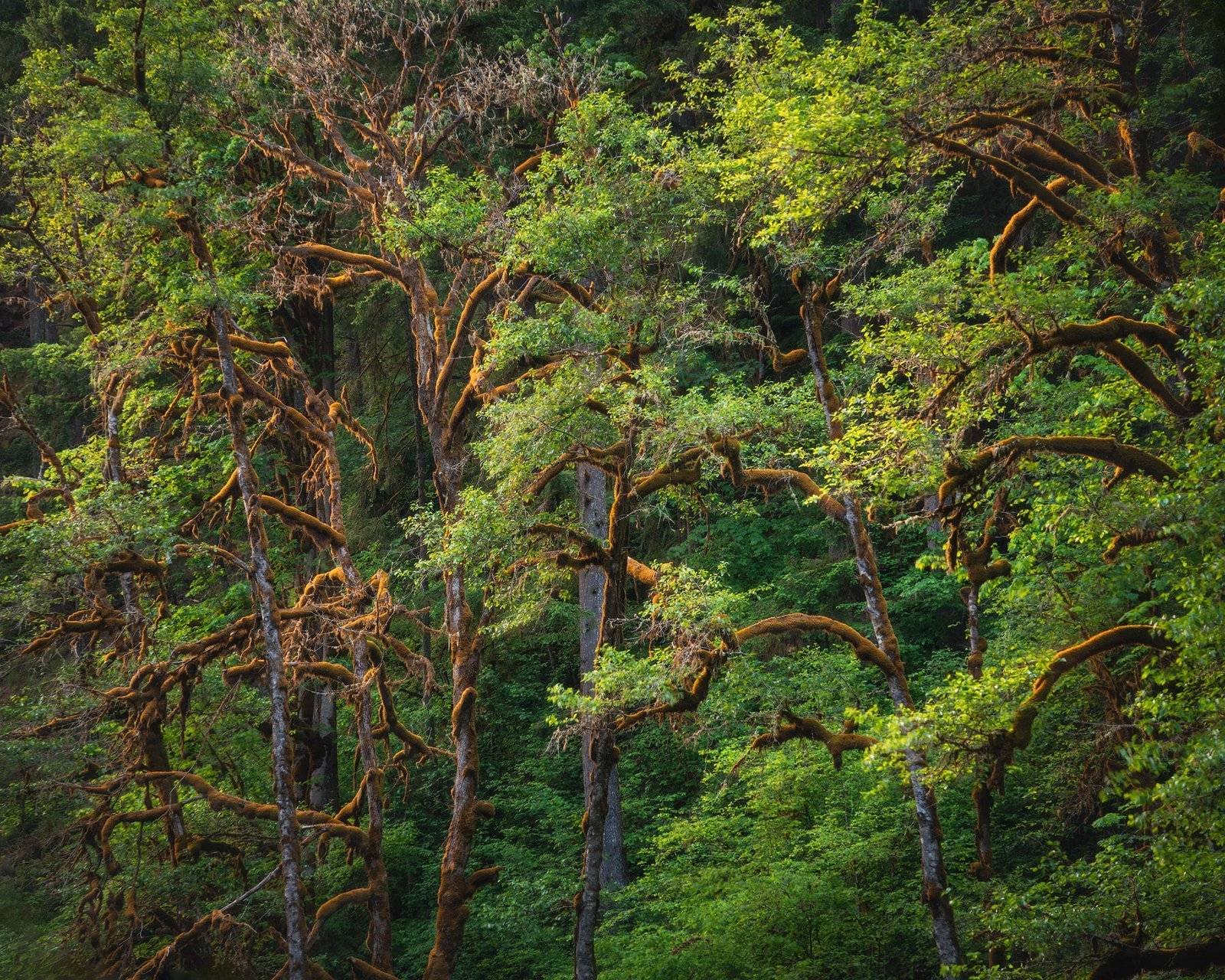 I really hope these waterfall photography techniques open doors to your creativity and enrich your photographic journey. Thank you so much for reading and checking out my work. If you would like to see more, check out this other video/article I created about waterfall photography.